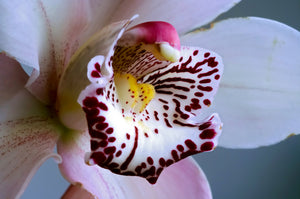 One of the oldest orchid nurseries in the world
Paphiopedilum spicerianum
Young plants
To the young plants
Flowering-size plants
To the flowering-size plants
Blooming plant
To the blooming plants
Visit us in Hildesheim
Große Venedig 4
31134 Hildesheim

Mon-Tue: by appointment
Wed-Fri: 9am-1pm and 2pm-5pm
Sat: 9am-12pm
We are closed on all public holidays!
Dear customers,
the main access to us is blocked, access is only possible via the street Gelber Stern and then the Kalenberger Graben!
We are looking forward to your visit!
Buy orchids from Hennis Orchideen
Buying orchids is now easier than ever. You can order your orchids online from Hennis Orchideen from the comfort of your own home. But that was not always so:
Hennis Orchideen has been an orchid importer and orchid breeder since 1891. Hennis Orchideen is one of the oldest orchid nurseries in the world.
It used to be anything but easy to get orchids, let alone buy them. They first had to be found in the jungle, collected and sent on a long journey. Luckily, it's easier today: you can buy orchids in almost any garden center these days, and you can even buy orchids online - like here in the shop, for example.
Buy / order orchids online. Where can I order orchids?
Now it's even easier to buy an orchid... from the comfort of your own home. You can simply select and order your desired orchid in our shop. The orchids are securely packed and make their way to you without detours.
With us you will find not only the classics but also extraordinary orchids. You have a total of over 100 genres to choose from. In addition to the orchid for the living room, there is also one or the other rarity for the hobbyist .
How much does an orchid cost?
Orchids have very different prices and it is the same in our shop. If you want to buy an orchid, you will find what you are looking for from around €10 , but we also offer specimens up to €100 . These are mostly rarities, of which only very few are available. You can buy the classic orchids from us for between €10 and €30 and have them sent straight to your home.
Give away orchids
Orchids are not only great for your own home as decoration, but also as a gift - especially on occasions such as Christmas, Easter and Mother's Day, they are the perfect gift and give the recipient a lot of joy for a long time.
Care for orchids
Although orchids are survivors and manage to survive on treetops in the rainforest, they are also demanding due to their special origin.
Most orchid species prefer bright locations on window sills, but also do not want to be exposed to direct sun - at least not for too long.
A little tip: The Phalaenopsis is one of the easiest to care for orchids and is therefore perfect for beginners who are just buying orchids for the first time.
Instead of watering the plants, it is best to submerge them. You take your orchid out of the cachepot every 2 weeks and immerse it in a water bath until the roots turn dark green.
Orchids especially love high humidity. It is best to spray the leaves regularly with a little water. But be careful: The water must not be too calcareous, because then the leaves quickly get stained.
Orchids for the indoor climate
Buying orchids is not only great for the look, but also for the indoor climate. With their colorful flowers, they create a beautiful atmosphere and contribute to increasing the humidity.
Advantages of buying orchids from Hennis Orchideen:
Long-lasting orchids that bring a lot of joy
Safe and fast shipping of the orchids
Everything is available, from young plants to flowering plants to full flowers
Large selection from over 100 genres
Over 120 years of experience in orchid cultivation
Buying orchids: what should I watch out for?
When buying orchids, many people make the mistake that you don't just buy the next best orchid available in the supermarket. Often, however, these are plants that have been exposed to a lot of stress and must already be in full bloom in the salesroom in order to look as attractive as possible and sell well.
However, it is much better to buy orchids that have just blossomed or are yet to bloom. So you can be sure that you will have something of the flower for a really long time.
Buy orchids in different colors
Our wide range of orchids in different colors also allows you to buy orchids in red, white, black, green, yellow, blue, purple or a combination of these colors . We also offer specimens beyond the standard white Phalaenopsis.
The different colored orchids belong to different genera. Therefore, you can not only discover Phalaenopsis and Vanda orchids in the collections stored for this purpose, but also rare specimens in the most beautiful colors.
Buy different orchid species
If you are looking for rare orchid species, you have come to the right place. We offer a total of well over 50 different orchid species and thus have one of the most extensive ranges in the entire German orchid market. So if you want to buy an orchid that belongs to an unusual genus, you will definitely find it with us.
Which is the most beautiful orchid?
Which orchid is the most beautiful depends entirely on your own taste. It can only be said with certainty that the white phalaenopsis is most widespread in domestic houses and apartments. This is mainly due to their large flowers. In addition to a white orchid, orchids in bright colors are particularly popular.
Which orchid smells the strongest?
Fragrant orchids include different orchids. The Phalaenopsis Liodoro , the Maxillaria tenuifolia 'Hennis' , the Coelogyne orchracea and the Dendrobium Berry Oda have a particularly strong scent, all of which are available in our shop under scented orchids.
Which orchid is easy to care for?
One of the low-maintenance orchids is the Phalaenopsis in particular, which is one of the reasons it is so popular and almost every orchid owner has at least one.